Report: Ethernet 10G, 100G service revenue will grow 300% by 2018
Thu, 06/19/2014 - 1:24pm
Comments
According to a recent report by Infonetics Research, revenue from Ethernet services delivered over 10G and 100G will grow 300 percent by 2018.
Last year, the combined global Ethernet services and IP MPLS VPN services markets totaled $62.6 billion, up 12 percent from 2012.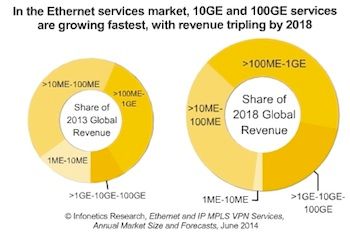 "Ethernet services continued to gain momentum in 2013, easily outpacing IP MPLS VPN services. Both segments are growing at a healthy clip and will continue to do so, with Ethernet services growing about twice as fast as IP MPLS VPNs through 2017," said Michael Howard, principal analyst for carrier networks and co-founder of Infonetics Research.
The increase was driven by cloud services accessed via IP VPNs, Ethernet services, and mobile backhaul transport over Ethernet services.
"Software-defined networking (SDN) and network functions virtualization (NFV) technologies will change the way service providers operate their networks and, more important, how they deliver services," Howard said. "The biggest change will come in the types of security services offered over IP MPLS VPNs and Ethernet services—for example, firewalls, SSL VPNs, intrusion detection, parental controls—and the pace at which they're made available."
In 2013, Asia Pacific made up the biggest share of Ethernet services revenue and will continue to do so through 2018, according to Infonetics.