Comcast Business debuts dual band gateway for SMBs
Tue, 06/03/2014 - 10:12am
Comments
Taking a page out of its residential playbook, Comcast Business is offering a dual band Wi-Fi gateway for small businesses.
As part of its neighborhood Wi-Fi initiative, last year Comcast started deploying gateways with dual SSIDs, which is the same tack its taking with the new business wireless gateway. The gateway allows businesses to assign one private wireless signal for their own backoffice needs while also providing a separate signal for customers.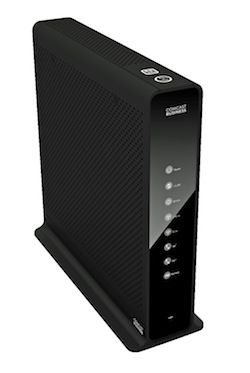 Comcast said the gateway, which is made by Cisco, was the nation's first built specifically for a commercial environment with an integrated modem equipped to produce dual-band Wi-Fi signals.
"We are making the Business Wireless Gateway available nationwide because research has proven time and again that Wi-Fi is a game changer for brick and mortar based small businesses," said John Guillaume, vice president of product development, Comcast Business. "Many different types of customers – coffee shops, law firms, real estate offices, gyms, libraries and more – want to attract and retain visitors to their location and give employees the tools they need to be more productive. Wi-Fi can be critical on both fronts, and this device can help make that easy to manage."
Like the residential gateway, the business gateway uses 802.11n and operates in both the 2.4 GHZ and 5.0 GHZ radio frequencies. The download speeds are up to 150 Mbps, which should be enough speed for customers' various smartphones, tablets and other devices. The gateway includes a DOCSIS 3.0 cable modem, MoCA support and a VoIP adapter. The gateway is included with most Comcast Business Internet tiers.
"Today's 'main street' small businesses want to offer Wi-Fi to their customers to get them in the store and keep them coming back, but concerns can arise from over security and how challenging it will be to set up and maintain a Wi-Fi network," said Matt Davis, director of consumer and small business telecom Services at IDC. "The Business Wireless Gateway from Comcast Business gives SMBs a single box solution to quickly set up both public and private Wi-Fi, with public access being managed and maintained over the Comcast network. This can alleviate security concerns because customers are not accessing the same Wi-Fi network that your employees are."