While worldwide set-top box revenue declined in the first quarter of this year, the cable set-top box segment grew 5 percent in both units shipped and revenue growth.
Infonetics Research's set-top box report said that worldwide set-top box revenue totaled $4.8 billion in the first quarter, which was a decline of 3 percent from the preceding fourth quarter.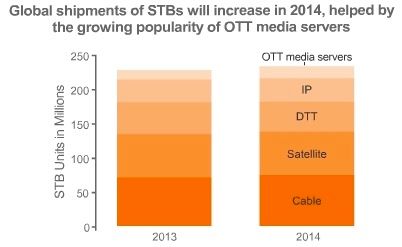 "There was a pocket of strength in the set-top box (STB) market in the seasonally weak first quarter. North American cable operators stepped up spending again on top of successive sequential revenue increases as they transitioned higher-end multiplay subscribers to headed and headless video gateways and replaced aging, power-hungry standard-definition boxes with more efficient high-definition boxes," said Jeff Heynen, principal analyst for broadband access and pay TV at Infonetics Research.
Currently, North America commands the largest portion of STB revenue, but Asia Pacific is projected to close to within 3 percentage points by 2018, driven by a penetration of advanced services such as HD and OTT, which will set in motion an upgrade cycle
For the third straight quarter, Arris finished the first quarter as the STB market share leader, benefitting from the HD cable STB refresh cycle underway by North American cable operators.
Infonetics projected that the OTT media server segment would grow from 6 percent of global STB revenue in the first quarter of 2014 to 14 percent by 2018.
"A boost in overall STB unit shipments this year will come from an increase in over-the-top (OTT) media servers as service providers in China and other emerging markets use these devices to deliver live streaming TV," Heynen said.