Study: Loss of video subscribers in NA partially offset by ARPU increases
Tue, 05/20/2014 - 1:08pm
Comments
With the notable exception of Comcast, most cable operators in North America continued to bleed out basic video subscribers in the most recent first quarter earnings reports, but those losses were at least partially offset by increasing average revenue per user (ARPU), according to a recent report by Infonetics Research.
Overall, the global pay-TV market, which included cable, satellite and telco IPTV service providers, increased 5 percent last year for a total of $221 billion. The overall growth was the result of pay-TV providers in mature markets increasing ARPUs among slow-growing or declining subscriber bases, and from grow subscriber growth in emerging markets.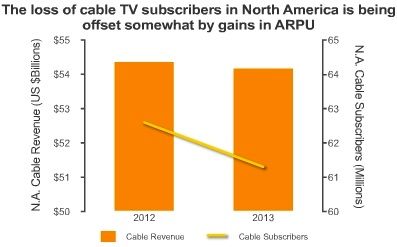 While the improved ARPUs help in the short term, Infonetics' report said that they would flatten over time.
"As a result of increasing competition from OTT (over-the-top) players and the service providers themselves using broadband video as a lower-priced offering, we believe overall video services ARPU and revenue growth will be constrained and, accordingly, have reduced our 2017 pay-TV revenue forecast by 35% globally, from $401 billion to just under $260 billion," said Jeff Heynen, principal analyst for broadband access and pay TV at Infonetics Research.
Pay-TV subscribers increased 5 percent in the second half of 2013 to 756 million subscribers, with the strongest growth coming from the telco IPTV segment
DirecTV, which announced earlier this week it was being acquired by AT&T, was the global market leader for pay-TV service revenue last year. The satellite TV provider had one of the highest ARPUs in the industry, which helped offset a slowdown in net new subscribers.