Time Warner Cable connects with Fan TV streaming service
Wed, 04/23/2014 - 12:37pm
Comments
Starting in the second quarter of this year, Time Warner Cable authenticated subscribers will be able to tap into a new IP streaming service from Fan TV on the TWC TV app.
Fanhatten's Fan TV provisions live and on demand content across its device and features a remote without buttons to push. Similar to a touch screen tablet, users of the remote swipe across the device.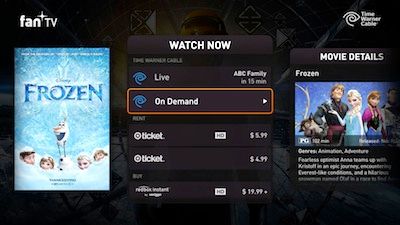 Fan TV is pre-selling the devices on its Web site for $99. The service, which includes a search and discovery feature, will be available to Time Warner Cable subscribers with no additional subscription contracts or fees beyond the one-time Fan TV purchase.
"Today, discovery is backwards; you're narrowing your options by first picking a device, then an app, then shuffling through a limited content library," said Gilles BianRosa, CEO of Fan TV. "Fan TV brings together live TV, video-on-demand and streaming services in one simplified discovery experience where the entertainment is always front-and-center."
The initial wave of streaming services available on Fan TV will include Redbox Instant by Verizon, Crackle and Target Ticket, as well as the Rhapsody streaming music service.
"The Fan TV experience is a leap forward for the cable industry," said Mike Angus, senior vice president and general manager, video for Time Warner Cable. "Fan TV is the perfect marriage of the compelling content we at Time Warner Cable bring to customers with the complementary services available to consumers, delivering both in a rich experience for seamless entertainment. The service leans into the multiple ways that consumers are increasingly watching their entertainment across live TV, VOD and streaming, and pulls them together in an intuitive product."
Fanhatten provided the box for Cox Communications' FlareWatch IP video trial last year in the Orange County area of California.