Video test and validation platform vendor S3 Group will open the doors on a new office in Philadelphia to better serve its East Coast customers.
Dublin-based S3 Group also has an office in San Jose, but the Philly office puts it closer to Comcast, which is headquartered in Philadelphia, Videotron and Time Warner Cable. John Maguire, director of strategy and marketing for TV technology, S3 Group, said that the new office would initially have seven employees.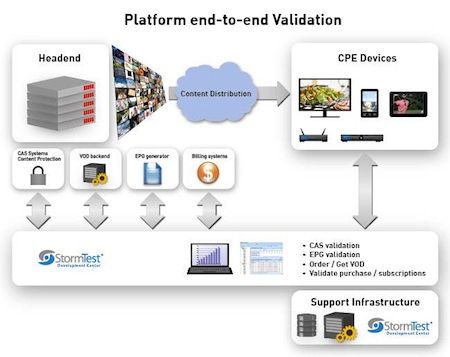 S3 Group manages the code base for the cable industry's Reference Design Kit (RDK), which is a joint venture among Comcast, Time Warner Cable and Liberty Global. The RDK Management joint venture is also based in Philadelphia.
The RDK, which now has 140 licensees, is a community-based project that enables developers, vendors and cable operators to use a defined stack of software on one layer in order to provision set-top boxes and gateways. The RDK allows all of the interested parties to develop once and then scale across multiple environments – in the CableCard/QAM/MEPG-2 world of today, as well as in the IP environment of tomorrow.
The RDK is all about agile development, which is also S3 Group's overall mantra. Through its testing platform, StormTest Development Center, S3 Group validates video across set-top boxes, iPads, connected TVs, Roku and other devices. The testing process makes sure the streaming video works across the various devices and services before being deployed to customers, and also checks compatibaility with backend systems such as billing.
"Our customer base is primarily operators now," Maguire said. "We help those operators test across products and services. When they introduce something new on their platform we help them achieve best performance all the way through from set-top boxes to next gen projects. We're about improving the performance, both in development and production."
The automated testing process increases operators' service velocity and reduces complexities for engineers.
"Before any feature change is made to an existing TV service, or any new service is introduced, it's imperative that rigorous testing occurs to ensure that subscribers have a quality experience," said Jason Blackwell, director, service provider strategies, digital consumer practice at Strategy Analytics. "Pay TV operators must now support set-top boxes, tablets, game consoles, smartphones, and other devices, which requires managing a dizzying combination of possible software configurations and hardware platforms. As such, there is growing need for enhanced service validation solutions that provide the efficiency and reliability required to keep pace."
Last week S3 Group hosted its inaugural North American StormTest User Group Conference in its new office.
"S3 Group is committed to enhancing the performance and service readiness of video platforms in development and production," said Philip Brennan, vice president of TV technology at S3 Group. "StormTest Development Center enables engineering teams to increase efficiency by replacing time-consuming manual tests with more accurate automated testing across connected devices.
"To address the growing demand for our products and services in North America, we are very pleased to have hosted our first North American StormTest User Group Conference, and opened a new North American office in Philadelphia to serve our clients' needs."
StormTest Development Center validates services that are delivered to more than 140 million viewers, across 28 countries. In addition to Comcast, Time Warner Cable, Videotron, and Liberty Global, its customer base includes Mediacom Communications, BskyB, and BT, among others.