NAB: RGB Networks bows ad insertion for multi-screen video
Mon, 04/07/2014 - 12:36pm
Comments
by Mike Robuck
RGB Networks has launched its CloudXstream ad insertion for multi-screen (AIM) and network DVR at the NAB Show in Las Vegas this week.
The cloud-based platform provides a turnkey approach for the deployment of AIM or network DVR (nDVR) in an operator's own data center or hosted private cloud. The framework helps operators monetize their TV Everywhere services.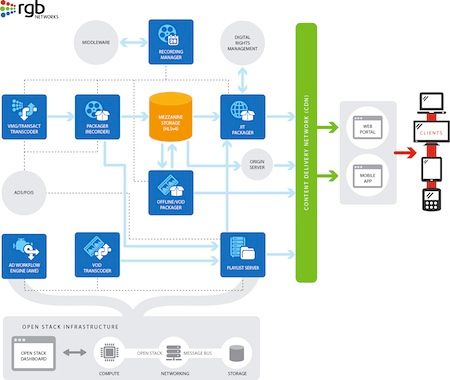 RGB said it was already in discussions with several large cable operators and expects to start customer trials of CloudXstream in the near future. The production deployments of CloudXtream could be underway by the end of this year.
In order to speed up deployments, RGB said it had developed an Openstack framework model that enables deployment of up to hundreds of application instances in a matter of minutes. The end result is that RGB can now offer operators a native Openstack deployment platform that quickly deploys all AIM and nDVR software components as simply as a "video cloud on a USB stick."
"We first unveiled our CloudXtream initiative in October 2013, and since that time the reception from our customers has been overwhelmingly positive," said Simone Sassoli, vice president of marketing and business development at RGB Networks. "Our customers tell us that CloudXtream will facilitate and accelerate the deployment of new revenue-generating services such as multi-screen ad insertion and network DVR so they can maximize the opportunities for monetizing their TV Everywhere deployments."
RGB's CloudXtream framework also enables the integration and deployment of other third-party applications directly into the Openstack cloud environment including DRM, subscriber management, ad servers and other third-party products.
"We are excited to work with other vendors as we build out the ecosystem for CloudXtream," said Andy Salo, vice president of product management at RGB. "We have fully embraced an open source model for deploying cloud-based applications so that customers don't feel locked in to proprietary solutions. By working with other vendors, we can offer customers the best choice for their own needs."