Cablevision cues up cloud-based ads with ActiveVideo
Wed, 04/30/2014 - 11:39am
Comments
by Mike Robuck
Cablevision and ActiveVideo have partnered up on a new cloud-based advertising platform, CloudTV AdCast, which will make its debut later this year.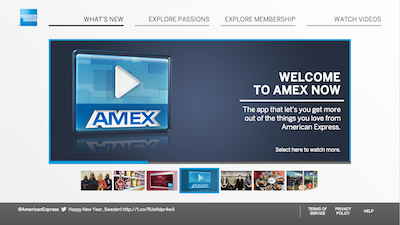 American Express is slated to become the first advertiser to take the cloud-based ad platform for a trial spin with its interactive TV app called "Amex Now." The new platform delivers HTML5-based interactive ads from the cloud. It also simplifies the process for extending graphic-rich ads to television since the applications written in HTML5 can be extended to TV.
The platform delivers rich graphics and reduces costs whiles also accelerating the time to market for advertisers. Cablevision's advertisers will also be able to tap into metrics that will measure the effectiveness of their ad buys, viewer engagement, response rates and conversion. The metrics can be use by advertisers and their agencies to further optimize their campaign and ad messaging.
"Simplifying the process for advertisers to extend interactive ads to television is a key objective for Cablevision," said Ben Tatta, president of Cablevision Media Sales. "We look forward to the launch of AdCast and the introduction of new, more robust ad solutions for American Express and all of our valued clients."
ActiveVideo's CloudTV AdCast, which made its debut at CES earlier this year, can render the ads in the cloud across legacy set-top boxes as well as in a wide range of IP devices, which can help reduce fragmentation between connected devices and set-top boxes.
In order to extend its reach into the interactive advertising world, ActiveVideo partnered with Brightline, which helps advertisers build the ads, and provides usage metrics through its In-Television solution.
ActiveVideo previously developed interactive games and apps for Cablevision.