Vyve Broadband picks TiVo, Evolution Digital for DTAs
Tue, 02/25/2014 - 1:00pm
Comments
Vyve Broadband, which recently changed its name from BCI Broadband, will make its move from analog to digital by working with TiVo and Evolution Digital.
The deal marks the first time that DVR pioneer TiVo has used digital transport adapters to provision its service with a cable operator. Starting in April, Vyve Broadband will deploy HD universal digital transport adapters (HD uDTAs) from Evolution Digital that work with TiVo's service.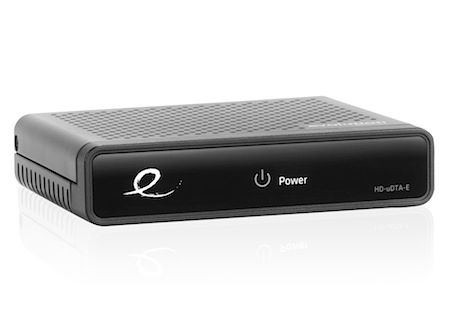 By going to an all-digital lineup, cable operators can offer more HD channels and faster DOCSIS 3.0 speeds with the additional bandwidth that becomes available. Vyve said it would be able to offer its customers over 140 channels in HD once the all-digital rollout is completed.
The HD DTAs can be used by smaller cable operators that want to offer an entry-level HD service without using expensive set-top boxes, or to provision second, third and fourth TVs in a home.
To date, Evolution's HD uDTA roster includes Adams Cable, Atlantic Broadband, BendBroadband, East Alabama Cable TV, Midcontinent, New Wave, Wave Broadband and others.
"This is the first commercially deployed TiVo solution running on our HD uDTA," said Evolution Digital president Brent Smith. "We have a number of other operators in the process of evaluating this platform, and are confident this will be the first of many this year."

HD DTAs allow customers to access HD signals without the frills of VOD, pay-per-view or more expensive equipment in the home. By using an HDMI connection, customers can opt for an analog-type viewing experience on their new HDTVs through the use of HD DTAs. Thanks to new chipsets, HD DTAs go for roughly $50 each in high volumes.
"Vyve was founded with a key principal of providing next-generation broadband services to our non-urban markets," said Vin Zachariah, Vyve Broadband's senior vice president of residential services. "This agreement with TiVo enables us to take yet another large step in delivering on that commitment. Converting our infrastructure to an all-digital format with over 140+ HD channels is a critical technology objective. We are pleased to couple that with the TiVo platform to provide a superior user experience."
Vyve, which was formed last year by former executives from Bresnan Communications, serves subscribers across Oklahoma, Texas, Georgia, Tennessee, Arkansas, Louisiana, Kansas, Wyoming and Colorado. TiVo and Evolution Digital partnered to develop the DTAs to help Vyve's migrate to an all-digital platform.
"As TiVo continues to expand from our DVR roots to provide rich media experiences to all devices, this initial foray in to the DTA arena is very important deal for the company," said Thomas Elam, vice president and general manager of TiVo's service provider business. "Vyve and Evolution Digital are fantastic partners to bring this new, low-cost DTA solution to market. TiVo is now in a new business area, one we are keen to rapidly expand, including the potential this partnership presents to provide additional products such as whole-home solutions. We couldn't be happier to make our inaugural DTA deployment with Vyve, a company that shares our innovative, customer-centric approach to television."
Since TiVo has deals in place with Atlantic Broadband, RCN, Suddenlink Communications, Mediacom Communications, Midcontinent Communications, GCI, and Grande Communications, more DTA deployments are likely to follow.
From an inauspicious start as a low-cost, one-way, channel-zapping device for analog TVs, DTAs have evolved into more complex devices that are capable of working in various environments. The HD uDTAs by Evolution work with both Cisco and Arris/Motorola headends. Vyve's systems are Arris/Motorola based.
Comcast started deploying HD DTAs two years ago while Time Warner Cable, Mediacom Communications, BendBroadband and Cable One also have them in some customers' homes.
"Evolution Digital is really seeing a shift in the marketplace from SD to HD with MSOs like Vyve seeing the great value enhancements of Evolution's HD uDTA," said Marc Cohen, Evolution Digital's executive vice president of sales. "An industry leader like TiVo enables Evolution to customize and fulfill programs and develop strategic relationships that help MSOs reduce capital expenditures, lower operating costs and increase customer satisfaction."