Comcast made its debut on Vertical Systems Group's 2013 Carrier Ethernet Leaderboard.
Comcast, which branched out into Ethernet services three years ago, moved up from Vertical Systems Group's "Challenge" tier to rank eighth overall among the top providers. Comcast was the fasted growing company among all of the ranked companies.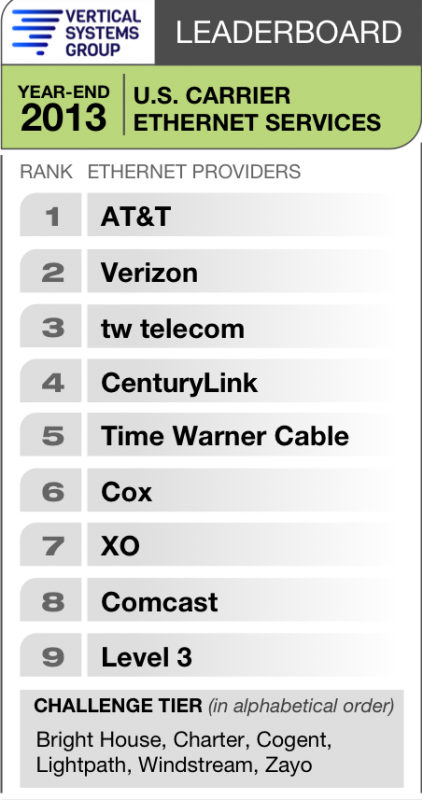 Time Warner Cable moved up just ahead of Cox to gain the top cable MSO provider position on the leaderboard. Time Warner Cable was ranked fifth while Cox came in sixth.
"Cable companies have developed a winning formula for the U.S. business Ethernet market," said Rick Malone, principal at Vertical Systems Group. "They are successfully leveraging their on-net fiber footprints to offer aggressive pricing and rapid service provisioning."
The other top positions, in rank order based on retail ports, were AT&T, Verizon, tw telecom, CenturyLink, and Level 3. Port shares were calculated using the base of enterprise installations of Ethernet services, plus input from Vertical's independent surveys of Ethernet providers. The leaderboard threshold was 4 percent or more of billable port installations.
The fastest growing application for 2013 continued to be Ethernet access to IP/MPLS VPNs, a capability supported by each of the incumbent carrier and competitive provider companies ranked on the leaderboard. For Gigabit speed Ethernet services, the top applications were connectivity to data centers and cloud services.
A key business concern cited by Ethernet providers was disruptive service pricing in major U.S. metro markets. Competition for new business intensified during the past year as regional Ethernet providers and cable operators focused on share gain. Vertical Systems expects this trend to continue throughout this year.
Other providers selling Ethernet services in the U.S. were segmented into two tiers as measured by port share. The Challenge Tier included providers with between 1 percent and 4 percent share of the U.S. retail Ethernet market. For 2013, the following six companies attained a position in the Challenge tier (in alphabetical order): Bright House Networks, Charter, Cogent, Lightpath (formerly Optimum Lightpath), Windstream and Zayo.
The Market Player tier included all providers with port share below 1 percent Companies in the Market Player tier included the following providers (in alphabetical order): Alpheus Communications, American Telesis, BT Global Services, Cbeyond, Cincinnati Bell, Consolidated Communications, Earthlink Business, Expedient, FairPoint Communications, FiberLight, Fibertech, Frontier, Hawaiian Telecom, Integra Telecom, Lightower, LS Networks, Lumos Networks, Masergy, Megapath, NTT America, Orange Business, RCN Business, Reliance Globalcom, Sprint, SuddenLink, Tata, TDS Telecom, TelePacific, US Signal, WOW!Business and other companies selling retail Ethernet services in the U.S. market.