Thanks to a recent update, AT&T's U-verse App can now stream more than 100 live channels, including around 20 that can be viewed outside of subscribers' homes.
Live streaming is currently supported on iPhone and iPad devices, but a spokeswoman for AT&T said support for more devices and operating systems was forthcoming. The third version of the app was released on iTunes on Sept. 30.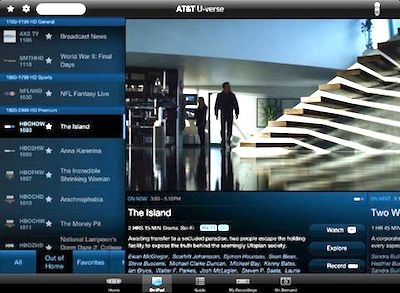 The live TV streaming channels are available at no additional cost to U-Verse customers that subscribe to U-family or higher U-verse TV tiers. Some of the live channels are also available on AT&T's web portal. AT&T plans on adding more live channels on an ongoing basis.
"By making live TV content available across devices we're enabling our customers to watch TV on their terms when and where they want it," said Mel Coker, chief marketing officer, AT&T Home Solutions. "U-verse has always been about delivering a TV experience built around our customers, and this enhancement gives them even more flexibility and control."
AT&T subscribers can also access thousands of VOD movies and TV shows on the U-verse App and use it as a remote control and channel guide. Other features include remote DVR capabilities, advanced search functions and more information about shows and movies.
Among cable operators, Time Warner Cable was first out of the gates two years ago with an iPad app that featured live streaming into subscribers' homes over its IP network. Since then, Time Warner Cable has updated the app several times