Report: PON spending rallies broadband equipment market
Wed, 09/04/2013 - 12:15pm
Comments
An increase in PON equipment spending helped boost the broadband aggregation equipment market in the second quarter, according to a recent report.
Overall, the global broadband aggregation market, which includes PON, FTTH and DSL equipment, grew 6 percent sequentially in the second quarter of 2013 to $1.6 billion.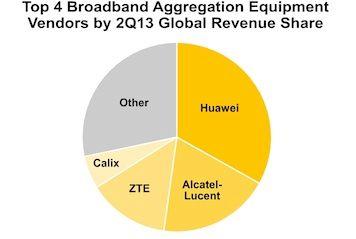 "Thanks to increases in PON equipment spending across the globe—particularly Gigabit PON (GPON)—the broadband aggregation equipment market bounced back in the second quarter," said Jeff Heynen, principal analyst for broadband access and pay TV at Infonetics Research." In the EMEA region, PON equipment revenue jumped 71 percent over the previous quarter, aided largely by projects in Russia that boosted the revenue of Huawei, ZTE, Alcatel-Lucent and ECI, the primary suppliers of GPON equipment to Russian operators."
In the Chinese market, spending on GPON equipment was up again in second quarter, as China Unicom and China Telecom continue to roll out GPON-based FTTH and now fiber-to-the building (FTTB.)
While total for broadband aggregation gear in EMEA (Europe, Middle East, Africa) rebounded in the second quarter, DSL equipment revenue slumped to its lowest level ever.
North America also bounced back from a lackluster first quarter, but Ethernet PON spending dropped 8 percent after a 240 percent gain in first quarter. Shipments of EPON gear to cable operators for business services based on DPoE (DOCSIS Provisioning of EPON) continued unabated, according to the report.
Broadband aggregation market share leaders Huawei, Alcatel-Lucent, and ZTE held onto the top-three spots in the second quarter, while ECI Telecom and Adtran showed strong growth.
The report found that operators in Western Europe were forgoing large-scale FTTH rollouts in favor of VDSL2. Belgacom, KPN, British Telecom, France Telecom, and Deutsche Telekom have been joined by Turk Telecom, Telekom Austria, and others deploying VDSL2.