Comcast Business adds mobility to Business VoiceEdge
Thu, 09/19/2013 - 12:30pm
Comments
Comcast Business has added a mobile app for Android and iOS devices to its Business VoiceEdge service.
The free mobile app extends unified communications and video calling features into VoiceEdge, which is a cloud-based PBX offering for small and medium-sized business.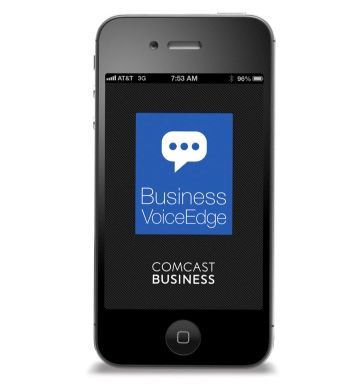 Comcast Business said the new mobile app featured an easy-to-use interface to manage business voicemail and "Be Anywhere" features that allow business calls to be answered from virtually any phone, anywhere.
The update also allows VoiceEdge to be installed in employees' home offices in order to mirror the phone capabilities at home that they have at work.
Another new feature is "softphone" for PCs or Mac. The softphone application allows users to make and receive phone calls directly from their computers using their business phone numbers. It can also serve up video calling when paired with a video camera.
Lastly, "video calling" enables point-to-point HD-quality video calls for Business VoiceEdge phones with a built-in camera, or built-in or external cameras used in conjunction with the Business VoiceEdge softphone. Customers can add video during a phone call with the press of a button.
"Our new Business VoiceEdge mobility capabilities give workers seamless voice and unified communications that are tightly integrated with both their corporate offices and their preferred mobile devices," said John Guillaume, vice president, product management at Comcast Business. "These capabilities allow employees to improve their communications and productivity while at the office, on the road or working remotely."
Earlier this year, Comcast Business' VoIP service ranked the highest in a study by Infonetics Research for the second straight year.
"As organizations continue to integrate cloud computing and bring-your-own-device (BYOD) into the work place, there is an increasing need for mobile solutions that will deliver unified communications across today's agile workforce," said Diane Myers, principal analyst, VoIP, UC, and IMS at Infonetics Research. "Implementing a mobile work environment will enable today's distributed workforce to communicate, collaborate, and deliver better customer service, and in turn provide organizations with increased productivity, reduced costs and an improved business processes."