Report: Cable set-top boxes, Cisco shine in first quarter
Mon, 07/08/2013 - 12:35pm
Comments
Cable set-top box shipments and revenues were able to shake off the traditional first quarter lull this year to post modest gains across both categories.
Cisco had its best first quarter on record while extending its worldwide set-top box revenue lead, according to a recent report by Infonetics Research.
"Cable set-top boxes bucked the seasonal trend in the first quarter of 2013, notching modest gains in both revenue and shipments," said Jeff Heynen, principal analyst for broadband access and pay TV at Infonetics Research.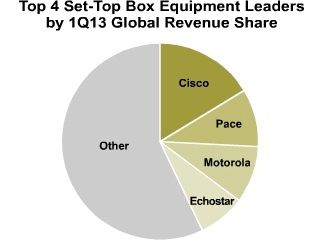 According to the report, only cable set-top boxes (STBs) and over-the-top (OTT) media servers gained on a sequential basis in the first quarter of this year.
Overall, the global set-top box market, which is comprised of IP, cable, satellite and DTT STBs, and OTT media servers, totaled $4.4 billion in the first quarter, which was a decline of 5 percent from the fourth quarter of 2012.
Thanks in part to emerging markets in China and India, where the focus is on digitization rather than advanced services, 56 percent of the set-top boxes shipped in the first quarter were SD boxes.
"China and India remain strong and growing markets for low-end digital STBs, while Latin America continues to ramp. Meanwhile, North America also grew, thanks to increasing shipments of video gateways and clients," Heynen said.
Other highlights from the report included:
• China Telecom recently released a new tender for smart IP STBs for its growing IPTV services in Shanghai and Guangdong, and it is expected this will lead to an increase in IP STB shipments later this year
• Infonetics predicted telco IPTV subscribers to grow at a 17 percent compound annual growth rate from 2012 to 2017, the highest of any subscriber category.