Report: MoCA brings home networking device market to a boil
Wed, 05/15/2013 - 12:38pm
Comments
MoCA (multimedia over coax) has long since emerged as the home networking standard of choice for North American cable operators, but it's also fueling the growth of the home networking device market.
According to a recent report by Infonetics Research, sales of set-top boxes with embedded MoCA technology grew 23 percent in the second half of last year while MoCA adapters, though still shipping in small amounts, increased by 129 percent. Overall, Infonetics projected that MoCA-enabled set-top boxes would account for 46 percent of home networking device sales by 2017.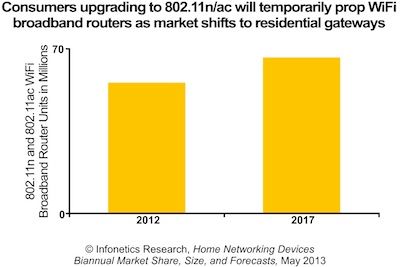 "MoCA is again driving growth in the home networking device market, particularly shipments of video gateways in North America," said Jeff Heynen, directing analyst for broadband access and pay TV at Infonetics Research. "Deployments of cable and satellite set-top boxes with integrated MoCA are slowly reaching a boil, and we expect DirecTV's Genie, Dish's Hopper, and Comcast's XG1 set tops to see increased shipments throughout 2013 and beyond."
Overall, the global home networking device market totaled $4.9 billion in the second half of 2012 , which was a 5 percent increase over the first half of the same year. North America was the home networking device revenue share leader, capturing 45 percent of global revenue in the latter half of 2012.
Broadband router revenue grew 6 percent in the second half of last year, thanks to shipments of higher-end 802.11ac and 802.11n Wi-Fi routers in North America and EMEA.
In the race for broadband router revenue market share, Actiontec saw the biggest jump, up 30 percent from first half of last year, according to Infonetics.