Contributed feature: Thinking inside of the box with SDNs
Thu, 06/12/2014 - 3:19pm
Comments
by Dave Martin, vice president of product management, Edgewater Networks
To continue their rapid growth in the business services market, many MSOs are racing to build out portfolios of managed services. But with the introduction of every new service, MSOs end up facing the same old set of customer premises equipment (CPE) challenges:
• Will the new service degrade CPE performance?
• Will the new service require upgrades of all existing CPE?
• Will the new service require another device at the customer site?
• Is it time for an expensive "rip and replace" of all the CPE already deployed?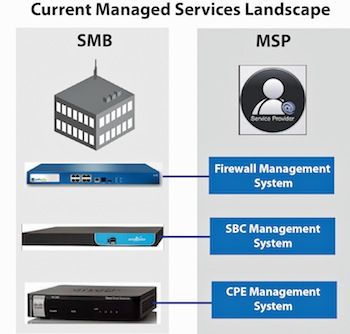 None of these options are attractive: they all add cost, shrink margins, slow time to market for new services and make customer support more complex. Faced with this poor set of choices, maybe it's time to take another look at the CPE at the edge of an MSO's network.
Rethinking On-Premise Hardware
In today's networks, CPE devices act as a demarcation point marking the end of the MSO's network and the beginning of the customer's network. CPE devices also implement critical application and networking features such as traffic shaping, prioritization, protocol mediation, firewall, load balancing and more. As new services are introduced, existing CPE must often be upgraded, reconfigured or replaced to meet additional feature and performance requirements.
Network functions virtualization (NFV) is emerging as an alternative to traditional network design. NFV has the potential to radically change network architectures and simplify the introduction and provisioning of services. NFV can permit an MSO to move the execution of some features from the CPE device to servers or appliances in the core of the network.
In more sophisticated designs, NFV could enable an MSO to create a policy that can balance the execution of these features between the edge and the core. By doing this, latency sensitive traffic can be processed at the edge to conserve bandwidth while more compute intensive operations can be forwarded to the core when necessary.
Coupling NFV with a software defined networking (SDN) infrastructure can provide maximum flexibility and automation for MSOs. SDN effectively separates control and data planes in a network so that traffic flows can be easily switched between application logic in the datacenter. SDN removes the burden of static VLAN management, encapsulation or other techniques to simplify scaling in the data center as virtual machines are added or removed.
With NFV and SDN, new services can be introduced as a software upgrade in the core — without the need for CPE firmware or hardware updates or the introduction of any new CPE devices. This makes it possible for MSOs to quickly launch feature-rich managed services without touching existing CPE.
What are the Market Opportunities?
The NFV and SDN promise of driving down operating costs means that service providers can quickly and economically tap the huge potential of the small and medium business (SMB) market.
Take a managed security service for example. An MSO that can launch and support an affordable managed security service for SMBs would address a large and growing market need.
Symantec reported in December 2013 that cyber attacks on SMBs were up 72 percent from 2012. The same study reported that fully one third of all attacks are now directed at SMBs. While the attacks increase, SMBs seem blissfully unaware. Three quarters of SMBs surveyed by security firm Kaspersky Lab think their business is too small to be of any interest to cyber criminals.
NFV's centralized approach makes it possible for MSOs to deliver a high margin, managed security service targeted at SMBs. A CPE device can work in tandem with centralized software in the MSO's datacenter to deliver a comprehensive managed security service. Consider these possibilities:
• An MSO can establish a policy that is automatically downloaded by the CPE instructing it to perform some network-centric security features, such as stateful packet inspection, while forwarding other traffic requiring more advanced payload inspection such as anti-virus filtering to the core for execution.
• Alternatively, the CPE can also receive instructions from the core that can be cached and used to locally process traffic for any particular flow. This optimized scheme can boost service performance and conserve bandwidth.
• If traffic exceeds a CPE performance threshold (based on an adaptive algorithm or defined by the MSO's policy), traffic processing can be offloaded from the CPE to the core to provide a superior end-user experience.
This flexibility and processing efficiency contribute to a very scalable solution for security and a variety of other applications.
Deploying NFV-based CPE also allows an MSO to roll out other managed services without any additional devices or hardware upgrades. The business case for NFV-based CPE gets even more attractive with each new service rollout. For example, after a security service, the same CPE can support other networking applications and services like mobility (e.g., mobile device management), session border controllers (voice), server load balancing, or WAN acceleration.
Scaling Network Functions Virtualization in the Core
NFV applications streamline many basic networking functions and bring the benefits of virtualization to IP routing, security functions (firewalls, intrusion defense), caching, server load balancing, VoIP, and more.
The emergence of cost-effective multi-tenant solutions based on NFV is particularly exciting for MSOs. To support one-to-many service delivery, each network function can execute in a process that can be called by tenants as needed. The multi-tenant approach eliminates the sprawl that results from simply virtualizing a software function and then replicating it for each customer. Without a multi-tenant capability, MSOs would quickly find themselves in a situation where they must track and maintain thousands of separate software instances. With multi-tenant NFV, MSOs will see simplified provisioning, flexibility and scalability and cost efficiencies.
Service Delivery Platform Roadmaps – Where to Begin
MSOs should start by researching emerging NFV service-delivery platforms and identifying the networking vendors that are bringing these technologies to market. Forward-looking networking vendors are extending NFV to the upper layers of the networking stack. Simultaneously, they are optimizing software to let MSOs benefit from the cost-performance curve of industry-standard server blades and avoid ripping and replacing legacy equipment.
MSOs should look for a NFV and SDN networking vendor that can help them start small to protect existing network, CPE, and virtualization investments. The long-term potential of the vendor's solution should also be considered. Does the vendor offer a scalable platform? Or, are their products point specific solutions that can't help with future services rollouts?
To avoid some other pitfalls, MSOs should look for NFV platforms that give them a documented API and support for a broad range of multi-vendor network equipment. The presence of an API shows that the vendor is offering an open solution that puts the MSO in control and promotes third-party solutions and interoperability. For example, an MSO's enterprise customers will want to protect their investments in OSS/BSS systems. These systems will need an API to fully automate and manage new services. A documented API can also support code migration and simplify testing during the initial services development cycles.
Open, vendor agnostic platforms minimize business risks for MSOs, and can still support the deployment of specialized hardware when warranted. Network monitoring and diagnostics are also crucial components of an open NFV service delivery model and should not be overlooked. A robust platform will include user-friendly management and troubleshooting tools with centralized support for a broad range of devices.
A Solid, Proven Concept
The enormous potential savings that can be realized from a streamlined service delivery approach are accelerating NFV and SDN adoption and standardization. Service providers of all sizes are embracing NFV and SDN and the early results are encouraging. Proof-of-concept projects and business case analyses are validating the benefits for both service providers and business customers.
The market leaders at the edge — with demonstrated successes and experience working with service providers — can give MSOs a roadmap to the most cost-effective CPE and accelerated service delivery.
While this article has focused on costs and streamlining service delivery, the new network architectures and virtualization of network functions promise much more. Providers can expect to improve conservation of core network bandwidth, quality of service and scalability of services across multiple sites, clients, and applications.
In 2014, MSOs can definitely gain an edge at the edge with NFV and SDN.