Time Warner Cable's Meeks a Vanguard Award winner
Wed, 04/30/2014 - 11:17am
Time Warner Cable's Phil Meeks has made the most of his six and half years in the cable operator industry and was recently rewarded by being named as one of the National Cable & Telecommunications Association's Vanguard Award winners.
Meeks took over the commercial services division of Time Warner Cable a little less than a year ago when he was named executive vice president and chief operating officer, business services.
Meeks oversees all aspects of operations, sales and marketing for the company's rapidly growing business services unit. Time Warner Cable's business services unit serves more than 625,000 business customers and last year accounted for more than $2.5 billion in annual revenues.
Prior to joining Time Warner Cable, Meeks served as senior vice president of Cox Business. Throughout his 20 years of service at MCI Telecommunications, Meeks served in various strategy, sales and account management roles. He started his career at AT&T Information Systems/Southern Bell in 1979 and progressed through various sales and marketing leadership roles.
The Vanguard Awards, which are in their 50th year, will be presented during an awards luncheon on Wednesday.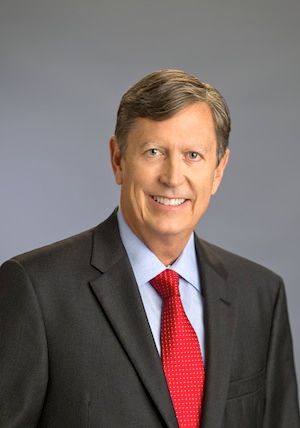 CED: Did you know that you were up for the Vanguard Award, and who told you that you had won?
PM: I had heard here internally that I was being nominated. I found out about it officially when (committee chair and Bright House Networks CEO) Steve Miron gave me a call. He called me and asked me to call him back on a Friday afternoon and when I did he shared the good news with me. It made a good start to the weekend.
After the fact I had the opportunity to see some of the writes up that were submitted on my behalf. One was from Rob Marcus, our chairman and CEO. It was great to read those nice words from someone that you respect as deeply as I respect Rob. Also my team here at Time Warner Cable Business Services nominated me as well. They did a joint nomination write up which was very important to me to hear those words. I also received a nomination from some of my former team at Cox Business as well.
CED: How does the business grow from here?
PM: That's a question I get about every day. We closed out the books last year in annual revenues with about a $2 and half billion run rate basis. We're on track within five years to double that to become a $5 billion business.
There are three things that we're focused on to make that happen. The first is to continue to capitalize on the significant opportunities that we have in small business In my current world 85 percent of my customers and 65 percent of my revenues are from small businesses. We will continue over the next five years to harvest those opportunities in the SMB space because we have some significant value propositions that our competitors don't. The first of which is we built products specifically designed for that marketplace. We have a superior infrastructure and a superior network that delivers those products. In simple terms broadband is better than DSL.
We also have the advantage of having local people in our local markets that do things for these businesses that our competition doesn't do. So within the local markets we typically have sales, we have sales engineers, sales support and we have customer care. All of those functional areas that we support businesses through are typically locally based. Not always but typically they are.
If you look at our model versus AT&T or Verizon, who are our primary competitors, it's a very different model. We want to think we've found that right balance of standardization and centralization for scale balanced by localism for our customers.
Our three-pronged strategy for growth is to continue to focus on SMB, continue to capitalize on carrier opportunities and continue to capitalize on enterprise mid market opportunities as we move up market.
CED: How will the carrier segment grow?
PM: Carrier has been a huge growth opportunity that we've capitalized on the last two or three years. A lot of that has been driven by cell tower back haul. We closed the books last year with 14,000 cell towers lit within our infrastructure. That included 2,000 cell towers that we acquired when we bought DukeNet on Dec. 31 last year.
We've had significant success with cell tower backhaul. Carrier is more than just cell tower backhaul but that has obviously been a big driver of it. We're also focused on carrier-to-carrier interconnectivity as well as providing last mile access on a wholesale basis. And carrier will continue to be important.
CED: Within carrier, how much runway does cell backhaul have left?
PM: In my view the big battles for cell tower sites have been won or lost, and fortunately we've won our fair share of those. What we're focused on in that space is bringing second and third carriers onto our 14,000 towers. Making sure that we put multiple carriers on those 14,000 towers.
We're also looking at what is the next big wave after call tower backhaul? In that area we're looking at small cell. We're looking at DAS, distributed antenna systems, and we're also looking at Wi-Fi offload. I think those three will be the next big things in the carrier space.
Because all of the big wireless providers are all trying to solve the same two problems. They have the same two things that they're trying to get their hands around. Those are how do I get more coverage and how do I get more capacity?
So that has been our big play around lighting cell towers and interconnecting cell towers with big fast redundant fiber rings. But I think also that small cell will continue to be more and more important to them. Offloading their traditional networks via Wi-Fi will be very important to them as well, and also capitalizing on indoor and outdoor opportunities for small cell deployment will be a really important thing as well.
Carrier will continue to be an important business. We'll continue to grow our base there. We'll continue to harvest the new opportunities around small cell, around DAS, and around Wi-Fi offload. That's the second big component of our three-prong strategy to double the business in five years.
CED: Can you tell us more about the third area of growth, enterprise?
PM: The third area we're focused on is moving up market into the enterprise space. When I say that I'm talking about companies with 500 employees or so. We see a significant opportunity there for us. It's a market where we've already done really well in so far but there's a significant opportunity for continued growth there.
When you think about Ethernet, which is the IP-based transport delivery service of choice in that mid-market space, we've had great success there. Earlier this year we were named by Vertical Systems Group as the fifth largest provider of Ethernet services in the country. We were the largest MSO provider of Ethernet services in the country.
Almost simultaneous to that ranking, we were the first carrier in all of North America to be named certified in all eight service configurations for Carrier Ethernet 2.0. by the Metro Ethernet Forum.
What we're focused on is how do we provide the type of products, the types of platforms, the type of customer support that those larger customers need and require? The good news is that when you think about carrier, the same operational support requirements that carrier type customers have are the same things that larger enterprise customers want as well.
So the advantage there for us is we can invest once and leverage multiple times. The advantage to our customers in those markets is we can get in those markets faster because we're killing two birds with one stone, if you will
Another huge asset and advantage we have when you think about moving up into mid-market, enterprise space is NaviSite. That's the cloud-computing company that we purchased three years ago. That positions us in a very strong place in marketplace where we have the network infrastructure, i.e. the pipe, and we have the cloud.
CED: What types of services are you looking at for the enterprise sector?
PM: What we're determining is how we can bundle together the pipe and the cloud in a way that's a very compelling value proposition for those mid range, smaller enterprise customers. I think it's really a market that is untapped. So we're very focused on things such as infrastructure as a service, desktop as a service, computing as a service. All of those things were kind of sexy buzzwords three or four years ago, but those are things people are using every single day to fundamentally run their business differently than they have in the past.
The advantage to customers in that space is that as they're deploying applications or infrastructure as a service, for example, it doesn't require them to invest their capital. It does not require them to have that expertise within their IT shop. We can do it for them. They pay for what they use and we insure that what we're delivering to them is best in of class everything, All of things that IT shops spend days and nights think about and worrying about, we do that for our customers.
It allows them to focus and run their businesses more effectively, which is really what all companies want.
That's the three-prong strategy, the things we want to continue focus on doing to reach $5 billion within five years. Continue to focus on SMB, continue to focus on capitalize on carrier opportunities and continue to capitalize on enterprise mid market opportunities as we move up market.
CED: Last year you came over to Time Warner Cable from Cox Business, what were your engineering priorities for commercial services?
PM: So my priorities are pretty straightforward, how do we deploy technology in a way that we're able to gain maximum efficiencies from our use of capital. We invest a lot of capital into this side of the business within Time Warner Cable. What I'm focused on is being a responsible steward of that investment. Making sure we're connecting to as many customers in the best technological way, but also in the lowest cost way for us. So we're looking at things like EPON as a way to deploy our network in a more cost efficient, cost effective way.
But we're also looking at how are we deploying technologies that have the right levels of reliability, redundancy, survivability that all businesses value, but particularly as you move up market. One of our key strategies as you move up market is you have that reliability and sustainability in the network infrastructure as your building it.
We want to build it as cheaply as we can, but also with the highest quality standards that we have. We're driving fiber deeper into the network, which is a good strategy as well. Our thinking there is that as we proactively extend the network the determination for us is do we extend via fiber or do we extend via DOCSIS? What are the customers' needs, what are the applications, what are the clusters of opportunities that we would be building into and selling into? The applications really drive the infrastructure that we deliver.
So to be succinct, building with the best capital efficiency, but also building with the best customer experience in mind.
CED: You launched SIP trunking earlier this year, what's next for business class voices services?
PM: We have a really nice answer there because when I think about our 2014 and beyond road map continuing to invest in our voice portfolio is really important for us. That should be a larger component for us in the future. We have hosted PBX on our two-year roadmap. We have universal communications services and universal messaging, hosted voice solutions for small businesses; all of those are on our two-year roadmap. All of them are important as we deploy a more robust public portfolio around IP based voice services.
CED: Are cable operators starting to interconnect on business services offerings in order to keep customers within the cable family across the various footprints?
PM: I'm still fairly new to the MSO community when you count the time I've spent here at Time Warner Cable and my time running Cox Business, I've been within the MSO industry for about six and half years. For the six and half years I've been here there's been a lot of conversation—a lot of it being driven by the customers, by the way—about how the MSOs can cobble together infrastrucutre to provide more of a nationwide service to customers. It's fairly easy to say and a little more difficult to do because what you can't do is compromise the overall customer experience. The quality of the customer experience
That standardization of Ethernet transport makes it easier. We're having conversations within the MSO community and we do this on a situational basis now with all of the MSOs. We look at an opportunity where we have a customer in our footprint and they have locations in another MSO's footprint. On a very situational, one off kind of basis we do provide that type of cross MSO support of commercial customers.
But you can't scale one offs, and you can't scale on an individual case basis, Ethernet makes it easier to get better scale there. Common business processes to do it with scale would be required and that would be followed by a scalable OSS and BSS infrastructure as well.
I think the market is asking for something like this. I can't get into too much detail about Comcast and us being together in the future, but if you think about the combination of the companies from a business services perspective in the commercial space that becomes a really compelling story.
This is all public record, but the combined entity will have a physical presence in 23 of the 25 of the top 25 markets in the country. That's when you really start getting those advantages of scale in the commercial space. That ability to provide that geographic reach that those enterprise customers want from us.
In my opinion, when you think about that, that's a very pro competitive thing. It really opens up a new, very strong competitor to the traditional ILECS in this space.
CED: What did you learn at Cox that helped you at Time Warner?
PM: I would think the biggest lesson I learned at Cox was how to successfully run a business within a business. The commercial lines of business are still fairly small when compared to the residential lines of business, which is where all of the MSOs started
One of the challenges and one of the things you have to sort through when you're running one of the lines of commercial business is how do you optimally run the business within a business? Some of the things are important to business customers are less important to residential customers. Some of the things that are table stakes in business aren't table stakes in residential.
How do you leverage the broader company to maximize the impact for what we're accomplishing within business services? It's a great story. I think all MSOs have a good story to tell in terms of their ability to leverage that common infrastructure that was really developed for residential cable customers way back when.
I did spend a lot of time at MCI so hopefully I learned a little bit there. One of the things that I learned, and that MCI was really, really good at, was to really focus on the customer, to focus like a laser on the competition, and move with speed. Velocity is speed plus focus.
I think moving quickly should be and continue to be more of a competitive differentiator for us in the marketplace. So speed and always stay focused on the customers. That whole outside in way of thinking about the business and stay focused on the competition.
CED: Any mentors?
PM: One mentor comes to mind. He was a mentor of mine at MCI. I worked for him the last six years I was there and his name is Jonathan Crane. He's a great guy. Jonathan had a lot of different roles at MCI. Most of the time I was working for him he was president of marketing and sales there. What I learned from him was moving quickly, making decisions, having velocity, staying focused on competitors were all important, but also focusing on employees.
I learned to make sure we're running the business in a way that we're maximizing the most valuable asset that we have and that's the people. Jonathan was just a great guy personally and professionally. He demonstrated it and lived it every day. I learned from him that as a leader you're leading from the front. Being a genuine leader and leading in a way where people want to follow you instead of they have to follow you.
It sounds corny but its true, leading in a way that inspires employees to be the best they can be. And helping them help themselves in terms of their career growth because to me that's the most fulfilling part in this whole business world. Being in an place to help people help themselves in terms of their own career development and professional career trajectory.
CED: Can you think of a few things that people would be surprised to know about you?
PM: I'll do two. One is a matter of public record. I enjoy running marathons and I've done 18 or 19 marathons. I plan to do New York this fall and I think that will be my 19th. That's in my bio.
The other is I really enjoy music, all kinds of different music. I'm a very avid Bob Dylan fan. I've been to probably more than two-dozen Dylan concerts over the last 25 or 30 years. We kind of grew up together. If you catch him on the right night he's unbelievable, but if you catch him on an off nights you say "what was that?" I've seen him on some nights where it just took my breath away. He's so gifted and talented, it's incredible.
CED: Anything else about your career?
PM: I think we hit the high points. I have a degree in journalism and a minor in marketing. A lot of this was on the job training for me.