Report: Cable's slice of pay-TV market continues to dwindle
Fri, 12/20/2013 - 12:34pm
The continued exodus of basic cable subscribers in North America was an anchor on the worldwide pay-TV revenue market while IPTV and satellite providers grew their shares.
According to a recent study by Infonetics research, cable revenue market share fell another percent in first half of this year, primarily due to a slowdown in subscriber growth in the North American market, where video subscribers are declining at a pace of 1.5 percent to 2.5 percent annually.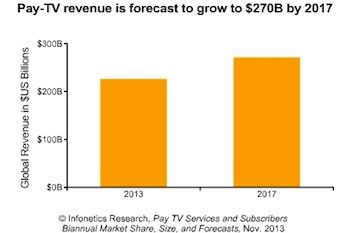 Infonetics said that telco IPTV and satellite revenue continued to rise, thanks to new subscribers and increased ARPU in parts of North America and Western Europe.
"Telco IPTV operators AT&T, China Telecom, and Deutsche Telekom continue to enjoy strong growth in new subscribers and ARPU. showing that competitive providers with differentiated services can successfully steal share away from incumbent cable operators," said Jeff Hymen. principal analyst for broadband access and pay TV at Infonetics Research. "Whether it's an improved user interface, multi-screen video, or even DVR services, there are marked differences that have allowed telcos to grow their subscriber bases at a time when others aren't."
Worldwide video service revenue, including cable and satellite pay TV and telco IPTV, grew again in the first half the year to $110 billion, a 2 percent increase over the second half of 2012.
DirecTV remained the pay-TV revenue market share leader in first half of 2013.
By 2017, Infonetics expects the global pay-TV market to hit $270 billion, a 2012–2017 compound annual growth rate (CAGR) of nearly 5 percent.
Topics