Don't wait for 4K: The case for deploying HEVC today
With Ultra HD/4K poised for eventual broad deployment, higher-quality video will soon become widely available. This has everyone talking about HEVC. That is High Efficiency Video Coding, the compression standard that will help big bring efficiencies to the delivery of Ultra HD.
HEVC, also known as the H.265 standard, is the successor to MPEG-4 (H.264), which is widely used for streaming video. HEVC will play a key role in efficient delivery of 4K content, but the standard also brings broader capabilities that MSOs should start taking advantage of today. This includes near-term efficiencies and cost savings when deployed in support of emerging IP services, such as IP VOD, IP Linear and IP network DVR.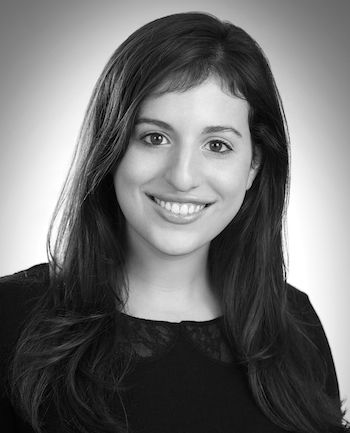 All told, IBB Consulting's analysis has found that operators that begin to deploy HEVC early stand to reap benefits that include:
• Reduced backbone and regional IP network demands;
• Minimized CMTS and access network bandwidth requirements;
• Increased quality of experience on all screens.
We've seen this movie before: MPEG-4 deployment similarities
HEVC builds upon the success of the MPEG-4 standard. By 2004, MPEG-4 reached full-expected bandwidth efficiencies over MPEG-2 (H.262). The standard reduced the bandwidth needed to deliver an HD stream from approximately 12 Mbps, roughly one-third of a 6 MHz DOCSIS MHz channel, to approximately 6 Mbps, or one-sixth of a 6 MHz DOCSIS channel.
OTT providers were the first wide adopters of MPEG-4/AVC, as the codec was needed to efficiently provide HD content at under 6 Mbps. MPEG-4 reduced buffering and provided a quality viewing experience for OTT users on a range of devices over bandwidth varying environments. The popularity of OTT video, coupled with OTT providers' implementation of MPEG-4, helped drive second screen adoption, with devices such as smartphones and tablets supporting MPEG-4 as early as 2008. Today, virtually all second screen devices support the standard.
For a variety of reasons, many cable operators never took full advantage of MPEG-4 in their networks. Unlike OTT providers, MSOs had a significant amount of legacy MPEG-2 video processing infrastructure that would have necessitated re-transcoding entire VOD libraries in support of the new source content and replacement of millions of customer set top boxes. So while MSOs have leveraged MPEG-4 more recently to support TV Everywhere offerings on non-set-top box devices, they could have realized additional bandwidth savings by deploying it earlier in support of core services delivery.
HEVC, ratified in 2013, is designed to improve coding efficiencies and support low-power parallel computing architectures. It is rolling out to the market in a similar fashion to MPEG-4 in its early days. We'll likely see support integrated into consumer devices first given constant demand for the best quality content and OTT providers like Netflix supporting 4K.
Key gains in efficiency of HEVC are attributed to larger coding tree units, increased intra-prediction directions, adaptive quantization and increased entropy coding techniques. HEVC can reduce the bandwidth of an HD stream from approximately 6 Mbps, or one sixth of a 6 MHz DOCSIS channel, to approximately 3 Mbps, or one-twelfth of a 6 MHz DOCSIS channel.
The bottom line? By utilizing gains in coding efficiency, HEVC can realize up to 50 percent better compression than MPEG-4. MPEG-4 offered similar savings over its predecessor. This time around though, IBB Consulting believes MSOs should take a closer look earlier on, even with the upfront investment required.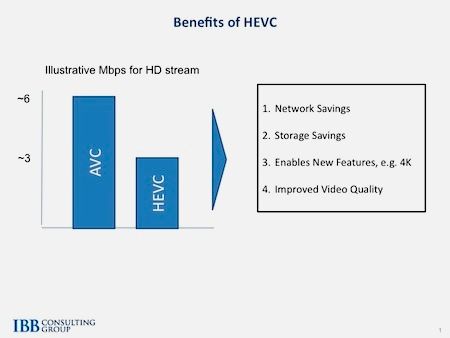 The Impact of the Transition to IP Video
As operators take steps transitioning to all-IP video delivery, they are forced to use simulcasting, duplicating the same content on their network to reach all edge devices. They'll need to continue providing QAM delivery to traditional QAM devices and either multicast or unicast IP traffic to IP-capable edge devices.
There are several tactics MSOs are using to manage spectrum, including moving to all digital and reclaiming analog channels, upgrading from 750 MHz plants to 1 GHz plants, and deploying switched digital video. While all-IP video requires less spectrum than QAM video, due to simulcasting, the transition to IP video is very bandwidth-intensive. Depending on which spectrum management tactics operators deployed and the amount of free spectrum available, certain providers may not be able to transition to all IP video without HEVC.
Other MSOs that do not currently have spectrum constraints still stand to gain significant DOCSIS efficiencies with HEVC. By furthering gains in DOCSIS efficiencies, MSOs can keep spectrum available for higher Internet speeds, more HD, Ultra HD and commercial services.
In order to remain competitive and ahead of OTT and satellite providers, MSOs will have to support the increasing amount
of HD and introduction of Ultra HD content at higher frame rates and more bit-depth. More HD content and Ultra HD content will add additional strain on ingest, encoding, storage, and delivery for VOD, linear and DVR.
In an IP video world, more HD and Ultra HD content will also mean more transcoders, more packagers, more storage, more recorders, more backbone capacity, more IP CDN capacity and more access network capacity. The system complexity will increase to support these new enhanced services, but the increased bandwidth incurred by this change can be handled through bitrate reduction techniques. Operators can mitigate the effect on their network by implementing HEVC.
Benefits of HEVC
HEVC introduces storage and delivery savings, enabling new features and improvements in video quality. For the highest bitrates, HEVC can provide up to 50 percent bandwidth savings. Upon full HEVC adoption, operators will be able to realize 50 percent bandwidth savings over MPEG-4/AVC on every leg of their delivery network. In addition to bandwidth savings, lower bitrates also means less data that operators must store. For instance, the improved compression decreases the amount of storage needed for IP VOD libraries and network DVR recordings.
In the case of network DVR, substantial storage is required when implemented with a dedicated copy per recording. When a subscriber records a program, the operator doesn't know what device will be used for playback. They also don't know what the reliability of the network will be. This forces operators to either store an aggregate of all bitrates or store content in a high enough bitrate that it can be transcoded on the fly to a lower bitrate upon playback. Recording in HEVC can help reduce the amount of recorders required for network DVR.
Reducing the bitrate of each stream offers subscribers the same video quality at half the bandwidth. In turn, that means subscribers can enjoy much higher video quality at the same bitrates they receive today.
HEVC also opens opportunities to offer more higher-resolution profiles, including increased frames per second, higher bit-depth, and 4K/8k (UHD-1&2).
Bumps on the road to HEVC
The main challenges operators face today are low HEVC player availability and penetration, and low HEVC transcoding availability and high prices.
Eventually, end-to-end HEVC deployment will require workflow overhaul, re-deployment of media players with embedded HEVC hardware decoders and the migration of content libraries from MPEG-4 to HEVC.
But there is progress on the horizon. We will soon see a surge in HEVC device availability and transcoding costs will ease over the next couple of years. For now, transcoding HEVC centrally and delivering HEVC content to HEVC compatible devices only are strong first steps for operators as they start down the path.
As is often the case, when it comes to deployment of any new technology, a balance must be struck between costs and benefits. For instance, storage savings have to be weighed against the added costs of transcoding and decoding. The HEVC codec requires up to 10 times more processing power for encoding compared to MPEG-4.
Even with all of these changes to accommodate and investments to make, the business case for HEVC will still prove to be beneficial.
Introducing HEVC into the network
While legacy devices make it hard to do clean end-to-end HEVC deployments today, incrementally introducing HEVC into the network puts operators on a solid path toward bandwidth and cost savings across services like IP VOD, IP Linear and IP network DVR.
Operators do not have to deploy HEVC on all of their services at once. They can follow an incremental approach, starting with services that require the least upfront spending and have the quickest returns. Similarly, within each service, there are certain strategies and tactics that each operator can follow to reduce upfront spending and test out new technologies.
After all, the bandwidth savings are too great, and the use cases too numerous, for cable operators to not prioritize implementing HEVC in their networks, starting as early as next year.
HEVC will be a hot topic at the SCTE Cable-Tec Expo later this month in Denver. At Expo, IBB Consulting will take part in the HEVC discussion during the "Migrating to HEVC and UltraHD Next Generation Video" workshop.
Topics